We at Vision College of Management (VCM), are working with a Mission to develop our students to allow them to prosper in their professional and personal life. Management Education Redefined is a commitment of Vision College of Management to ensure our mission is achieved by special thrust on both technology, as well as developing managerial skills including creativity, innovation, and the art of learning.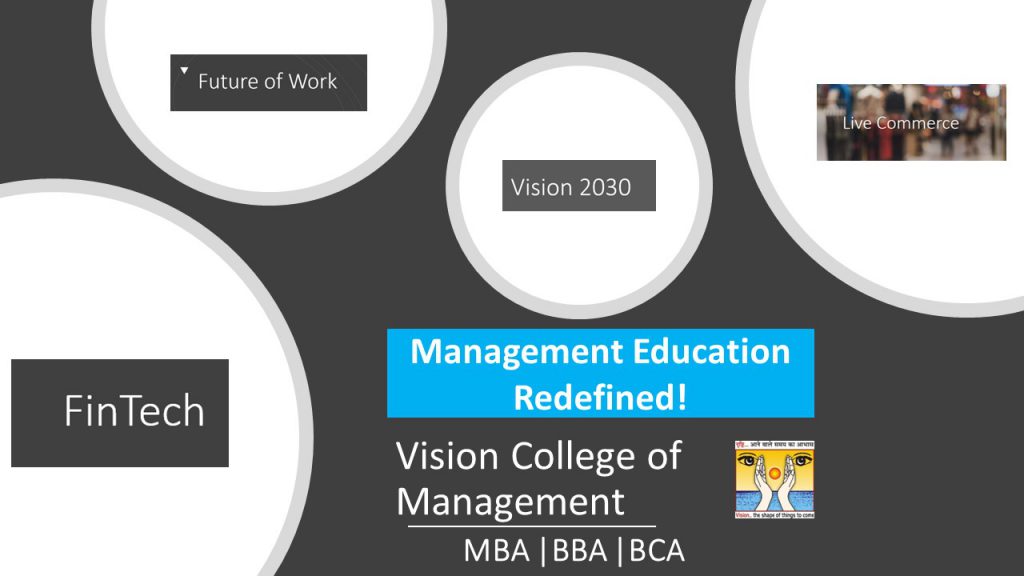 In a management college, the education needs to be more fluid and the learning outcomes more agile. At VCM we constantly introspect our pedagogy as well as the skills we strive to develop in our students. It has become more relevant than ever that all management graduates and post graduates have a firm understanding and know-how of technology. Today technology is both ubiquitous, and also a necessary enabler in all sectors and organizations. We cannot think of any process in sectors as diverse as Marketing, Finance, Human Resource, International Business & Trade are majorly reliant on technology. C-Suites are promoting decision making based on digital analytics. Under Management Education Redefined we identify case studies and sectors where skills in exponential technologies will be the real game changer in the coming years. We at VCM have elaborate methods to ensure all our students, even from non-tech background, get adequate exposure to these technologies.
Few Case Studies with related Technologies which we are promoting at VCM
Immersive, gamified, and diverse; there'll be a blurring of the lines between things we watch and things we play. In coming times whereas the video and other source of entertainment will be immersive using technologies like augmented reality and virtual reality, we will also have high penetration of personalized experiences will be on boast. In the coming decade,…
Continue Reading View to 2030: Changing scripts of Entertainment
In the past years, the COVID-19 crisis has made clear the business imperative of making technology-driven changes, which are more ubiquitous now than ever. Various reports and research of top global thinktanks on technology and the business suggests that organizations worldwide are reporting progress on their integration of technology and business—and that these efforts were creating tangible business value across four measures, including new revenue streams and lower costs. The results also suggest that, on average, some transformation activities result in more impact than others (namely, those related to talent and capabilities). And according to the data, the companies with top-performing IT organizations have differentiated themselves from others in their efforts to create value, adopt new technologies, and bring technology and business closer together.
Annual IT Strategy Survey of Mckinsey has pointed out Seven lessons on how technology transformations can deliver value. These are extremely relevant for any management student
Technology investments are creating significant business value
People-focused plays result in the most value
Talent remains the holy grail of technology transformations—valuable to pursue but difficult to execute
The talent challenge has clear implications for sourcing
No silver bullets—the top performers execute more transformation plays than others
The broader use of advanced technologies supports greater value creation
Bridging the business-technology chasm is critical to outperformance
Check full survey report
References