NTRODUCTION- FINE ARTS- DRAWING, SkKETCHING, PAINTING, CRAFT
"Art is the desire of a man to express himself, to record the reactions of his personality to the world he lives in"
Amy Lowell
The fine art club is to encourage students to express their thoughts, feelings and creativity through the various visual art forms from two dimensions to three dimensions.To tap the inherent talents and potentials of the student community at all levels of life. Our institution intends to uphold the relative merits of the students and to expose them to the higher order society who would in turn bring laurels to the institution by constant motivation and encouragement.
In a simple way, it is defined as"
"Fine Arts is the study & making of visual works of art. It can be in the form of dancing, paintings, photography, film, architecture, etc."
It teaches and prepares students to become artists and to follow other practices that are associated with the making of art.
According to Aristotle "the main aim of art is to represent not the outward appearance of things, but also their inward significance".
As per some writers, the idea of fine art was invented early modern period in the West. Larry Shiner in his book: "The Invention of Art: A Cultural History" finds the invention of fine arts in the 18th century.
Activities promoted:
Painting
This is an occupation, which calls for creative energy, and aptitude of person, keeping in mind the end goal to find things not seen, concealing themselves under the shadow of regular items, and to settle them with the colors and creativity , displaying to plain sight what does not really exist. There is something lovely around a clear canvas, the nothingness of the starting that is so straightforward and stunningly immaculate. The paint changes its importance and the colors that makes the story. Each piece starts the same, yet at last they are all exceptionally distinctive.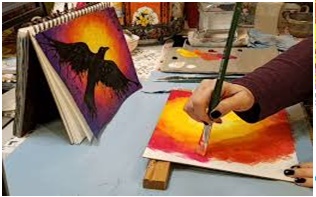 Sketching
When we are discussing craftsmanship, a representation generally alludes to a fast, casual drawing, typically done from life. A portrayal catches the essentials of the subject – the general structure and viewpoint, a feeling of volume, development and feeling; some of the time a recommendation of light and shade. A representation ought not be toiled or exhausted. A representation might be made in any medium, however pencil is the most widely recognized.
Handicraft
A handcrafted, is any of a wide assortment of sorts of work where helpful and improving articles are made totally by hand or by utilizing just straightforward instruments. It is a conventional fundamental division of specialty, and applies to an extensive variety of innovative and outline exercises that are identified with making things with one's hands and aptitude, incorporating work with materials, pliant and unbending materials, paper, plant strands, and so forth.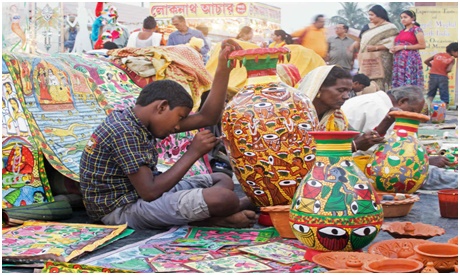 Do you like to do sketching, drawing & creativity?
If yes!
Then, the study in Fine Arts will suit you.
A fine art is a fine collection of art that is done to create beautiful things.
The term "Fine Art" refers to an art form developed primarily for its aesthetic value and its beauty.
Career & Jobs
Why Study Fine Arts?
Today, the opportunities in Fine arts are increasing at a rapid rate in the various sectors.
Presently, to obtain excellent salary, popularity and prestige, youth population of India are getting attracted to this field.
After completing graduation, students have a choice to work as an art teacher, artist in government offices or photographer. You can also start your career as a freelance worker & go for direction, clothing, photography, television and fashion.
You can also pursue careers in academia, architecture and the film industry. You can join creative departments of magazines, advertising agencies, and newspapers in the publishing or the textile industry.
Fine art graduates may also apply for mainstream graduate employment and training in a broad range of industries, for example, banking, art gallery, insurance, media and public relations.
The fine artists work is to produce artwork by using a wide variety of media and techniques.
You can display your work in museums, private galleries or have a private collections and get rewarded for your work. The objects made by you will sell in studios, auctions, stores or at arts and crafts shows.
The scope in fine arts is quite good, you can earn respect & money both under this professional career. The multimedia artists and animators work in the motion picture or video gaming industries.
Some of the Job profiles are:
Art therapist
Multimedia programmer
Drawing Teacher
Set Designer
Production Artist
Music Teacher
Creative Director
Editor
Furniture Designer
Art Director
3d Artist
Animator
Employment Areas are:
Advertising companies
Boutiques
Art Studios
Theatres
Tailoring Shops
Fashion Houses
Education Institutions
Television Industry
Animation
Teaching
Textile Industry
Sculpture